Upcoming Retreats with the Dunedin Pilates Studio
Pilates & Cooking Retreat in Piedmont, Italy (June 19-26th, 2015) 
Click here to see our photos from our 2014 trip!
About La Villa Hotel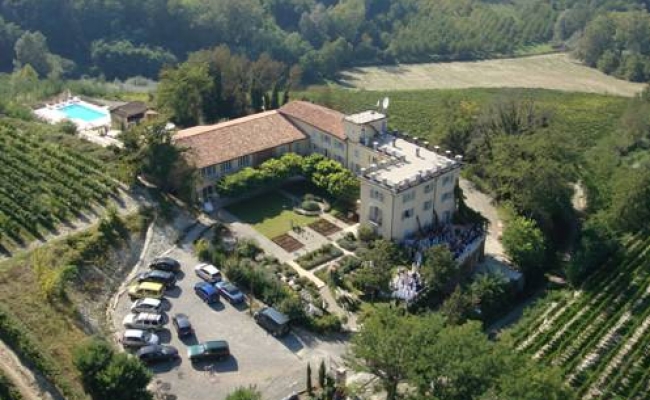 A hidden gem set in a stunning location surrounded by vineyards, rolling Piemontese countryside, and framed by the Alps beyond. Built in 1600, La Villa has been transformed into a stylish and chic retreat with a unique atmosphere – more like staying with friends than in a boutique hotel. Enjoy the simple luxury of the light, airy rooms, decorated in soothing colours with sensuous fabrics and the finest linens. Filled with local antiques and hand crafted products each room is different, individual and yet everyone is spacious and a haven of peace – with all the little details in place.
Discover your own favourite places amongst the gardens and terraces. Revel in lazy morning breakfasts in the courtyard and decadent afternoon siestas by the pool. Pass away the summer evenings watching the sun slip
 behind the hills, before dining under the stars. Turn your hand to a little pasta making. Or hunt down your own white truffles. Whatever the season, La Villa is a perfect place to relax and just be. The hotel is also an ideal spot from which to explore the wines, scenery and gourmet delights of the region. Venture out and you will find wonderful local artisans and producers happy to share their time and expertise. Let us help organize your days – find you the perfect bottle of wine, the little tucked away place to eat, the best artisan cheese maker, the best driving, cycling and hiking routes, the ideal golf course and the quaintest hilltop villages. La Villa's unique blend of style and service has earned it many accolades – featured in Travel and Leisure's 2010 book – The World's Greatest Hotels, Resorts and Spas and one of the top 45 new hotels in the world according to their magazine 'It List'; a TripAdvisor 'Top Ten Hidden Gems in Europe' award; a Top Six Place to Get Married in Europe; an Italy 'Q' Quality Hotels award. In 2010 we were also recognized by Escapio clients as one of their best properties of the year (with a score of 100%) and now we are now in the latest 1001 Escapes to Experience Before You Die, along with a lot of other press coverage from around the world.
www.lavillahotel.net
Itinerary:
Friday, June 19th:
Arrive in Italy! Get collected from the airport and head directly to the Hotel.  Settle into your room, lounge by the pool, and enjoy a glass of wine.  Head to the restaurant for apertivi and a 4 course dinner where you will meet other retreat guests.
Saturday, June 20th:
Breakfast and an energizing morning Pilates class start the day. We'll walk the hillsides and visit nearby towns before we head out to the Siege of Canelli Festival in the afternoon. This celebration re-enacts the siege of Canelli in 1613. The small local garrison was supported by the local citizens, many of whom lost their lives, in successfully defending the city. As the official programme notes:
""It is a celebration without embellishment. For two days more than 1,000 Canellesi wearing the traditional costumes of the period and always acting as if they were actually taking part in the most crucial events of a siege, re-create the atmosphere and the reality of a town under siege. The visitor becomes both protagonist and witness of the events, actor and spectator mingling with the officers and soldiers or with the farmers and their animals, sitting in inns and taverns often haunted by evil-doers and beggars…"
For us, this is the best festival we have ever been to, where the battles are just a part of the occasion, and the sights, sounds and general atmosphere are very special." Click here for more information.
We will enjoy dinner at the festival, and then return back to the hotel for the evening.
Sunday, June 21st:
Breakfast bright and early, then head out to Nizza Monferrato to the monthly antiques market, where there is a hugely eclectic range from 1960's LP records to war uniforms, antique furniture to old timepieces and recovered door furniture to light fittings. La Villa can even help with shipment, if you cannot resist that bargain. You will also be able to wander the town to find more fun and interesting things.
Come back to La Villa in the afternoon. We'll enjoy a post-market Pilates class, then follow up with dinner at a nearby establishment by catching up on your adventures.
Monday  June 22nd:
Wake up to a core warming Pilates class after breakfast, and get ready for and day of fun! Chef Charlie will join us for a cooking class where we will make our lunch, followed by a hike in the countryside – and there is no shortage of options for us to take – easy rambles across the fields and vineyards to more blood pumping treks up and down the hillsides. We'll schedule a wine or grappa tasting after we walk. Then,  relax for the day, and get adjusted to Italian time. For those interested, you can arrange to have a massage at the hotel. Enjoy a nice glass of wine while you eat a simple dinner at a restaurant nearby.
Tuesday, June 23rd
Grab your breakfast and an e
arly Pilates class before leaving for the spa town of Acqui Terme.  The thermal waters at Acqui Terme, 20 minutes away, have made it a popular spa town since Roman times and there several different spas to try which take advantage of the area's natural resources. Considered one of the most beautiful towns in Italy, stroll the beautiful streets, shop, eat and soak in the natural hot springs. Besides shops and spas, historical castles and cathedrals are found in this town. We will visit the local fresh market in Acqui, and source our ingredients for our cooking class later in the day. We'll make our lunch with Chef Charlie, and enjoy a quiet afternoon at the hotel. Will finish the day with a light dinner at the hotel.
Wednesday, June 24th
Start with a sunrise Pilates class followed by breakfast. From here, we'll wander the countryside in search of castles in Barbaresco and Nieve.These ancient towns have been voted the "most beautiful towns in Italy". They also feature important historical significance and play a role in the region's UNESCO World Heritage Site denotation. We will enjoy a very delicious lunch in these towns, then wander back to Nizza Monferrato for dinner.
Thursday, June 26th
We're starting our day slowly with Pilates and breakfast, followed by our second trip to Acqui Terme. This time, we're heading to the spa to enjoy the natural, healing waters of the hot spring, as well as follow the ancient wellness of "the Roman Path". We'll visit the spa at the Grande Hotel, as well as grab lunch in town. Once we return to La Villa, we'll enjoy our final meal at the hotel, and catch up with all of our adventures.
Friday, June 29:
Breakfast and Check out : (
For more information about this Retreat, contact us from our contact page. For more information, registration form, and payment info, click here.
Cost $2500 pp for double occupancy, $2950 for single occupancy. Includes accommodations, breakfast & dinner, beverages, excursions & experience costs, 2 cooking classes with Chef Charlie, daily Pilates classes, use of hotel gym and all facilities. Not included airfare, and transportation from airport (though Karen is renting a van for transportation).
 La Villa has been designed as a place to escape and relax. Besides the bar and lounge area, there are many outdoor spots to relax, including a large pool area, courtyard, garden and rooftop terrace. There is a massage

room for some one-on-one pampering and a small library for those who run out of reading material a little too 

early in the holiday. For the more energetic there is a well-equipped gym, plus a table tennis table for some mild 

competition. There are also bikes for venturing out and about, plus tennis racquets for use at the local courts. 

We recognize that it is not always possible to escape the world completely, so a complimentary wi-fi service is 

available throughout the hotel, as well as a guest-use PC in the reception area in case you need to keep 

connected to the outside world. For those who love to plan their days, you will find lots of guide books and 

books on local wines and food alongside a few good reads to keep the eyes open by the pool for a few hours. 

We've planned a magnificent trip to Italy for you, however, all of our excursions and classes are optional, and 

you can spend your days however you want to. Other optional excursions include a trip to a large shopping 

outlet, trip to the Berta Grappa Distillerie and horseback riding. 

Airports: Turin and Genoa are the closest airports at 30-45 mintues away, while Milan Malepsnsa is an hour and a half away.
Included: Breakfast, lunches and dinners at La Villa, Pilates classes, cooking classes at La Villa, Cooking class 

and/or dinner at a local restaurant, Wine Tasting experience at La Villa, use of La Villa's facilities – including pool, 

gym, bicycles, etc ., dinner at the Seige of Canelli Festival. 

Not included: airfare, wine, lunches on excursions and spa services, transportation. Karen hopes to rent a large van for 

us to use. The fee for this will be $70 per person for the week.